Back
DRAG RACE 2-PIECE READY MADE
DRAG FIRE
FIRENZE BLACK MEDIUM WEIGHT
Two-Piece Drag Race suit
Drag Race suit - 2 piece zip-joined medium weight leather
Backpad installed as standard equipment
GRIND - leather + ARAMID sandwhich at knees and seat
GRIND - leather + ARAMID sandwhich at shoulders and elbows
Cross-zipper security tab at ankle
Expander section at back for ease of movement
VANSON embroidered on collar
Tall Sizes - extra length Legs Body + Sleeves available
Brass hardware
Ventilated mesh lining
Suspender buttons - sewn on - 4 sets of 2 buttons each
Zippers at rear of calf
ID key fob embossed with garment unit-number for reference
D-ring for ignition kill switch sewn into right sleeve
Racing suit style wrist zippers with shaped zip guard
2 Rear zip-close exhaust vents
Leather windflap with license pocket
Warning: Last items in stock!
Availability date: 02/03/2020
This is a 2-piece, competition-ready Drag Race Suit. This suit is enhanced with GRIND at the shoulders, elbow/forearm, knees and seat; it also has a backpad.  GRIND is the special proprietary Vanson mix of leather and Kevlar® to make an almost impermeable protection barrier at key areas.
GRIND meets or exceeds even the AMRA and NHRA HARLEY FUELER CLASS requirements.  GRIND is light in specific weight, always important when measuring ounces for speed. GRIND is extremely protective; Chris Hand came off at 220 mph, Korey Hogan at 246 mph...  and so on.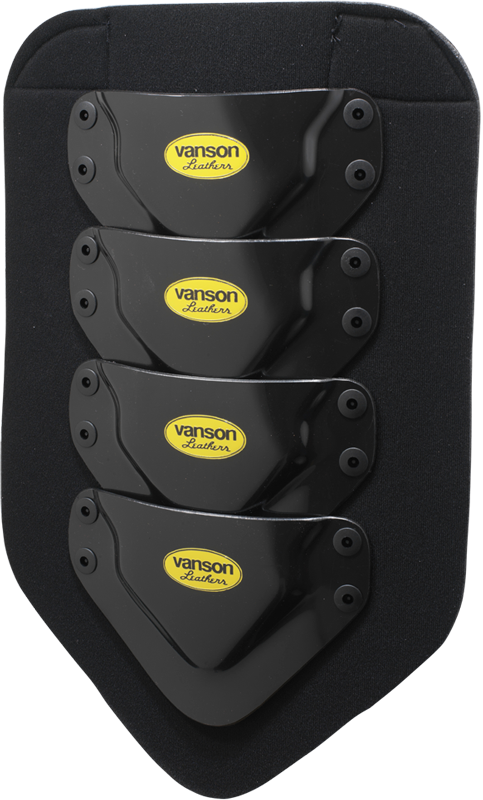 Our exclusive use of GRIND allows Vanson to build these suits using our butter-soft, already broken-in leather which we call CBLK.
The Back pad is the Vanson four scale, articulated, hard polyethylene pad that we produce for our high performance motorcycle road race suits.  The waist zipper is full circumference, made of heavy-duty brass, and the lining is ventilated nylon athletic mesh. The Suits are produced in regular chest sizes, men only.  These suits are not basic suits, they are complete in all important aspects, already broken-in and ready to go.
DuPont™ and Kevlar® are trademarks or registered trademarks of E.I. du Pont de Nemours and Company.
SIZES (DR2 )..34..36..38..40..42..44..46..48..50..52..54
2" CHEST GRADE SLOPER SIZE 42 CHEST MEASURES 46.25 (4.75 chest ease)
...............
.................
NAPE OF NECK TO WRIST GRADE
TOTAL TORSO GRADE 1.00 SLOPER 42 MEASURES 63.63
INSEAM GRADE .25 SLOPER 42 MEASURES 31.63
CROTCH TO MIDKNEE GRADE .13 SLOPER 42 MEASURES 15.13.
Korry Hogan The Worlds Fastest Motorcycle Drag racer- 255 MPH 4-Time World Record Holder- Funnybike/Top Fuel Motorcycle
November 25, 2011
Dear Vanson Leathers,
I am writing today to send you my most sincere thank you and tell anyone who is thinking about purchasing leathers that you are THE BEST IN THE BUSINESS!!!
On September 10, 2011, I was making a few exhibition passes at US131 (Martin, MI) during the tracks Nitro Funnycar Event when I made one of the quickest and fastest drag racing passes in history. As I went through the Finishline, I was blown off of my Top Fuel Motorcycle at 246 MPH in 5.78 SECONDS.
When I exited the motorcycle, I was lifted into the air and slammed to the pavement, which knocked me unconscious. In hind site, this was the best scenario that could have happened as my body went limp and I slid on my back for over 300 yards.
As I sit and write this letter, I am totally healed from the crash. Totally. The ONLY damage that I suffered was road rash on my lower spine, where the vented material of my suit succumbed to the intense heat and abrasion of sliding across the pavement at 245+ MPH. I had NO OTHER DAMAGE. None. I could have run a 5K marathon the next morning except I had forgotten my running shoes back in Denver. HA!
To my knowledge, this is the fastest motorcycle crash in history. What makes it even more amazing is the fact that I suffered almost NO damage. The suit is truly a work of art and I would NEVER put myself in another set of leathers as I have now proved that I can walk away from a second 200 MPH crash with NO abrasions. Back in 2008, I was electrocuted by a broken spark plug and had to let go of the motorcycle while traveling over 210 MPH and hit the ground going 200. This crash had the same exact result- NO DAMAGE to my skin whatsoever. TRULY AMAZING!!
I cannot thank you enough for the incredible leathers that you have provided me with for the past 8 years of my Professional drag racing career. I started using your leathers and gloves back in 2003 and have been a diehard VANSON FAN since.
Thank you again for all you do to keep us racers and riders safe from harm. You have proved to me that the cost of leather is much, much cheaper than time spent in the emergency room.
Thank you,
Korry Hogan