Back
HOUSE JACKET W/SLV STRIPES
BH BLK
BLACK COMPETITION WEIGHT
Dr. House edition original Vanson Model B leather jacket
Vanson B leather jacket with striped band on upper sleeve
Bi-Swing action back for greater movement
Solid brass side buckles
Snap-back mandarin collar
Brass hardware
1 Interior lining open-top wallet pocket
Black rayon lining
Full leather inside facings
STREAMLINER snaps for streamliner vest attachment
Zip-in-zip-out pile lining
1 Zip-close exterior chest pocket
2 Zip-close exterior hand pockets
ID key fob embossed with garment unit-number for reference
Underarm gusset for enhanced movement
Windtight low-bulk zip close sleeves
Leather windflap
Warning: Last items in stock!
Availability date: 02/03/2020
After we created the Vanson B series from the AR2 family, we developed a few derivatives. While the MODEL BH is not only the quintessential classic leather motorcycle jacket, it is also just a nice jacket to hang out in.
Wear it with a  T-shirt, wear it with a tie, either way it travels well, and has a comfortable relaxed fit. Side belts with solid brass buckles allow the waist to be tapered for comfort and accentuate the broad-shouldered cut. Finished with full inside facings that also secure a large inside wallet pocket. Zippered sleeves and low-bulk wrist gussets defeat the wind. To keep this jacket light and easy to wear, we gave it a comfortable rayon lining.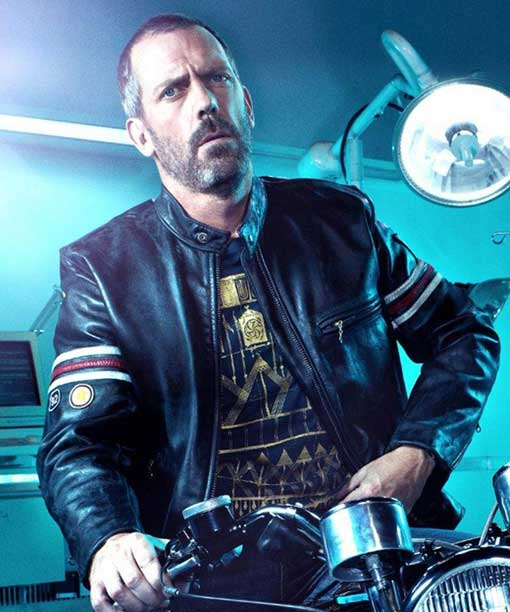 The MODEL BH accepts the Vanson Streamliner snap-in vest. We added the flair of flat track race-suit-style armbands to the sleeves. This is a jacket that fits in anywhere. A clean competition look, subtle but credible. The actor Hugh Laurie wore one of these in the popular TV series "House".
SIZES;...32..34..36..38..40..42..44..46..48..50..52..54..56..58..60..62
Size 42 - Chest measures 48.5 inches = Normal ease is 6.5 inches.
Back length is 25.5 - Front 22.5 - Sleeves are 35.5 Nape of neck to Wrist
These jackets are classic American fit and style:.
Meant to fall between beltline and hips.
Bottom circumference sweep is 44 inches.
I'm writing to let you know how my Vanson "House" jacket helped to save my life. Not only was it the only piece of safety equipment to survive the event, it suffered significantly less damage than I did, myself."
I was returning home from a quick trip 5 miles away to In 'N' Out Burger on my 2007 BMW K1200GT with lunch. Approximately half a mile from home, a four-wheeled BMW, preparing to make a left turn onto the same road I was on, going the opposite direction, pulled out into the intersection, *completely* blocking my lane of traffic (the only one going my direction) and stopped. I was going 50 mph and although I down-shifted, braked and attempted to pull around the front of the car, I impacted it's front, right fender just behind the front wheel axle.
According to the several eye-witnesses (it was hard for me to tell what was going on at the time - My point of view was similar to what you would have seen had a professional Baseball pitcher thrown a GoPro camera down the street), after impacting the car, my body left the motorcycle, impacted the speed-limit sign across the street (bending it to a 40 degree angle), hit and sheared a highway access ladder free of the highway sound wall it was bolted to, tumbled down the asphalt for 70 feet, then slid down the asphalt for another 65 feet - The impact with the car had occurred at one intersection, and my body came to rest in the middle of the next intersection down the road. My completely destroyed 650lb motorcycle had come to rest some 50 feet behind me. When the tow-company called to ask about what my family would like to do with the 'bike's remains, they were surprised to find that it hadn't been a fatal accident (as was the case with the insurance adjuster).
My injuries were such that, when the EMT's/Fire Dept./Police Dept. arrived, the decision was made to take me to the San Francisco Trauma Center 20 mile away, foregoing the several hospitals in-between. They worked on me in the trauma center for 9 hours before transporting me home and, two days later, I had to be admitted to the hospital here in San Mateo as my injuries were still to serious, and I remained inpatient there for a week. Upon returning home, I was unable to walk for several weeks, then spent time using a walker, then graduated to a cane (Yes, I bought a "House" replica cane - Figured I'd start a themed collection).
I should mention here that the only surfaces of my body that did not suffer abrasions, lacerations or scuffs were covered by the jacket.
I am still suffering several hours of pain daily from my healing wounds, but can now ride again. In May, I replaced the 'bike with the same model/year/options.
As for the jacket, to this day nobody believes it was in the accident.
I've included what pic's I have of the remains of my safety equipment. Helmet - Fractured and unserviceable. Pants - Destroyed. Gloves - Destroyed. Boots - Destroyed. I suffered a handful of fractures, Rhabdomyolysis, sprains, couldn't walk for a couple months and am *still* healing. Hell, even my underwear and socks were thrashed.
But the jacket? Oh, it looks like it's had a scuff or two but, in a major accident? Nah. No one's buyin' that story. Granted - I *love* that jacket, and from the day I picked it up at Scuderia West in San Francisco last year, I treated it with no less care than the 'bike itself. So, when the accident occurred it was in near-showroom condition (excepting the stretching that my somewhat-of-a-gut put it through - It may be tough, but my gut seems to be an inexorable force), but that *still* doesn't account for the preternatural state with which it came through the ordeal.
I *very* much would like to send it in to you folks to do whatever you can with regard to restoring/treating what wear an' tear it did suffer. So, if you could forward this to whomever could tell me how much that would cost/how to send it in/etc., I'd appreciate it.
Thanks again for the great jacket and for always having been, in my mind, the standard of quality and excellence in design and style of great leathers!
-- Achilles Gaubert