Back
STAR BAG
SBAG BLK
BLACK + RED COMPETITION LEA.
Leather bag with detachable Shoulder-Strap
Vanson Star jacket replica bag with race patches
Detachable shoulder strap
Brass hardware
1 Interior lining open-top wallet pocket
Cordura lined
1 Zip-close front glove pocket
Long leather zipper-pull
ID key fob embossed with garment unit-number for reference
Warning: Last items in stock!
Availability date: 02/03/2020
Backstage, in the Gulfstream, on the Harley  -  this bag is equally at home. It's the STAR BAG. Whatever you're starring in, this bag's for you.
(Not that you'd ever use anything so vulgar as a public baggage carousel....but just supposing you did, you could pick it out immediately  -  no two are alike).
SBAG Bag - 13 High x 14.5 Long x 5.00 Wide. Two handles with
D-rings on front + back of bag. Handles
D-ring. D-rings are secured with tabs stitched in to the side seams..
Inside pocket sewn into the Cordura lining. Outside zipper pocket on front
mimics the center front of a Star Jacket. Removable shoulder strap
measures 43 inches laid flat. Top zipper opening length is 17 inches
Shoulder strap is attached with swivel snaps at each end.

The VANSON-SUPREME co-branded relationship conveys a hip urban statement with iconic leather ace-styling that universally portrays a command over speed, masterful skill over risks, and a visual typology that celebrates winning achievement.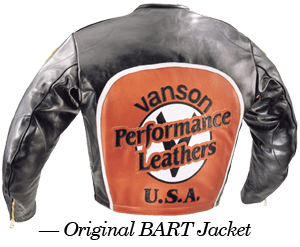 SUPREME-VANSON limited edition Leather Jacket is exclusive to SUPREME CLOTHING CO. and is a revival of the VANSON LEATHERS racing suit jackets used by Bartel's Harely-Davidson Performance Racing Team. Each jacket's graphics echo the legendary Harley Davidson factory flat-track team with lead rider, Jay Springsteen. As a factory Harley rider Springsteen won the American Motorcycling Association's 1975 rookie of the year and followed with consecutive A.M.A. Grand National Championships (1976, 1977, 1978). His career spanned 30 years, during that time he accumulated 43 Grand National Championship dirt track victories and ranked in the top 10 national riders 23 times!
Our design DNA is integral to every garment produced,
one at a time, by hand, in the U.S.A.


The timeless look of VANSON LEATHERS has defined many classic iconic images of enduring leather garments each tracing back with functional intent and patented design features such as venting, body armor, and abrasion-resistant closures created by VANSON LEATHERS.
Vanson, a U.S. based company has delivered race-proven protection for motorcycle racers and 2-wheeled adventurers throughout the world for over 44-years. Our design DNA is integral to every garment produced, one at a time, by hand, in the 50,000 SF, VANSON headquarters at home in the historic granite mill along the south coast of Fall River, Massachusetts, USA.
The Vanson STAR line...


---
- Vanson Star Jacket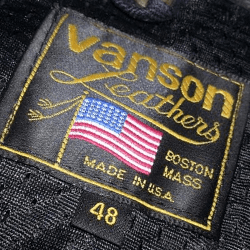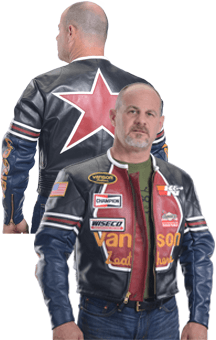 The VANSON STAR JACKET is the top part of a two-piece suit for American-Flat-Track racing.

Racing flat track is one of the most exciting motorcycle racing art forms, with roots going back over 100 years. Board racing, Wall of Death events, beach racing, and racing on dirt tracks are all early variations of the flat track sport. Dirt tracks for harness racing were common at fairgrounds throughout America. So, what could be more natural than substituting a motorcycle for a horse and having a race? Of the many old forms of racing, flat track continues in more-or-less the same form.

Some things change; today the bikes are tremendously more powerful and faster, speeds of 100+ mph are normal. Some things stay the same; no front brakes, on dirt, handlebars touching, sliding around with a foot down on the track for balance... with a steel shoe on your boot to keep the sole from ripping off. Some people call this an unnecessary risk. We think of it as being heroic in a mundane world.

Click to View Product Page


---
- Cobra MK2 Star Jacket
You're a Millennial, you think everybody should get a star...No, wait, you're a real extrovert - you're confident, you want to be noticed - you're OK with delivery drones mistaking you for a waypoint. Here for you is a coat with a red star big enough to see from a spacecraft. It's a contemporary interpretation of the Star jacket, with all the functionality of the Cobra - ventilation from the air-curtain front and ram-air sleeves, armor-ready, with 3-zip attachment to pants, and an adjustable suede waistband. Naturally it accepts the Streamliner vest.

A 1960's-inspired super graphic Vanson logo adds twist and shout to the classic flat-track symbol. And just like the label on a certain quality brand of Scotch, it'll annoy those who like everything in the straight and narrow.

The Cobra Star isn't all show and surface - there are subtle structural differences too - with the big star taking the place of the shoulder seam you get a suppler, more flexible fit, a jacket you can really move around in. And that in its turn just adds to your sense of confidence.

The conceptual design brief for this project has always been that the armor is to stay in the correct position, regardless of the attitude, altitude and speed of the rider. In practice this means that the garment has to fit properly (snugly) and not expand when, for example, vents are opened.

The armor has to be imperceptible to the rider, so that the rider can move; it has to have a little give, which is why we have the patented Floating Armor System. When the ventilation is activated the airflow mustn't distort the size and shape of the garment. All these are lessons that come out of hard-won Road Race experience.

Click to View Product Page


---
- Vanson Star Bag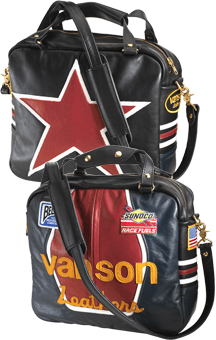 Backstage, in the Gulfstream, on the Harley - this bag is equally at home. It's the STAR BAG. Whatever you're starring in, this bag's for you. (Not that you'd ever use anything so vulgar as a public baggage carousel...but just supposing you did, you could pick it out immediately - no two are alike)


• Star jacket replica bag with race patches
• Detachable shoulder strap
• Brass hardware
• 1 Interior lining open-top wallet pocket
• Cordura lined
• 1 Zip-close front glove pocket

Click to View Product Page


---
- Vanson Star Back Pack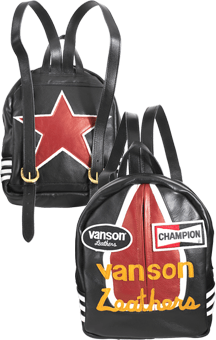 Our small Star backpack, lots of internal compartments, room for the essentials, excellent style/size ratio.

• Backpack with Star jacket replica graphics
• Adjustable shoulder straps with solid brass buckle
• 2 Interior zip-close secure wallet pockets
• Credit card holder pockets
• Brushed cotton liner
• 1 Zip-close front glove pocket
• Coil zippers - self-sealing black nylon coil
• Vanson quality leather (of course), and our own solid brass buckles.

Click to View Product Page